Hiring a vendor to build a digital product is an important business decision for any business owner. You're not choosing a stationery supplier, but a custom web application development company you'll trust with tens of thousands of dollars, and finally, your reputation.
As an award-winning full-service digital agency, we get in touch with brand leaders and startups from various industries all the time. To engage any further down the collaboration lane with them, we first need to understand and evaluate a project, its scope, and the technical requirements to determine whether we are a fit from a technical and strategic standpoint.
Why do businesses need custom web development services anyway?
Off-the-shelf software solutions are available immediately, they are industry-appropriate and they are cost effective. However, they are standardized. They are made to respond to the average needs of the average business in your industry. Average doesn't fit all, though.
When you opt for a custom web app development company, the software is built just for you, like high quality tailor-made clothes. A company specializing in custom development services will first spend a fair amount of time to get to know your business. What are your specific needs? What's your client base? What goal do you wish to accomplish?
They will also test abundantly throughout the development process to check the app's usability with real users and make sure it's on the right track. This ensures that the final digital product fulfills its purpose and brings value to your business.
Asking these 10 questions can make or break a potential client-vendor relationship
All this considered, it's important that the custom web application development company you choose is a good match. Since there is still no Tinder for software development partners (potential market opportunity here!), to get to know the company you'll be working with, you need to be asking the right questions.
Here's a set of frequently asked questions in the initial meeting with potential clients that can help set a software project up for success from the beginning.
1. "Are you focused on a specific industry, or do you take on projects from different backgrounds?"
When prospects see we've worked with big names and brands across industries, they frequently inquire about "the size" of our clients and the industries we're most experienced in.
Although we're seasoned in the hospitality, fintech, and telecom industry, we are always looking for interesting, innovative, challenging, and game-changing projects, whatever industry they might belong to. Real estate? Why not.
2. "What pricing models do you offer?"
We understand the price is an important factor. That's precisely why we always point out that it depends on the chosen cooperation model. Each one will suit a different type of client.
These are the three common cooperation models when estimating the price of a digital product development project.
Fixed-price – Suited for smaller-scope web development projects, like building a landing page, in which the scope isn't likely to change mid-project.
Time and materials – Used for long-term projects with dynamic requirements. At the beginning, the full scope is still unknown. Some flexibility is needed so that the requirements can be adjusted, direction shifted, and features replaced during the course of the project. With this model, clients are billed for the amount of hours the development team spends working on the project, plus the cost of materials.
Dedicated team – Suitable for projects with uncertain requirements and potential changes in scope. The client is charged monthly based on actual time worked by every team member and certain fixed parameters, like hosting or licensing costs (if they occur). Usually, this type of cooperation involves a team of (minimum) six to seven people and facilitates long-term collaboration between a vendor and a client. Find out more about the dedicated team model.
When we've agreed on a cooperation model, we can start talking about money. Our prices are not predefined because we build from scratch, be it mobile applications, web solutions or other digital products for our clients. To put it another way, we build custom-made software, and that includes different services in different ratios, making it hard to "put a fixed price" on a specific service.
Also, the scope and duration of the project affect the budget and rates. If we expect long-term collaboration, there is a high chance we will agree on better terms. That's why we need to understand the project's scope completely to provide an accurate timeline and budget estimate.
3. "What other services do you offer?"
Often, a software project requires additional services on top of the "core" one – development. We also offer design and branding services, code maintenance, and will gladly assist with growing your user base.
As a one-stop-shop or a full-stack agency, we have all the required skills and the technical expertise, along with years of experience, to bring the client's idea to life and execute the project successfully.
"Full" in full-stack refers to the collection of technologies needed to complete a project, whereas "stack" refers to a collection of accompanying services, like design, software testing, DevOps, analytics and so on.
4. "Do you work in an agile way?"
We employ an agile way of working: Scrum methodology, to be more precise.
In Scrum, we work mostly in two-week sprints. Each sprint starts with estimating the potential tasks and agreeing on the scope of the sprint. At the end of each sprint, the team presents a demo of the results and comments on problems.
A dedicated Project Manager will make sure everyone needed is involved in making all the important decisions and informed about the project's progress.
5. "What's the difference between a Product Owner and a Project Manager?"
Sometimes, the clients are not sure whether they need a Project Manager or a Product Owner.
As mentioned above, the Project Manager acts as the main point of contact and oversees and coordinates the project with clients. A Project Manager is perfect for projects that already have a dedicated product team.
On the other hand, a Product Owner is ideal if your company needs guidance in adapting business processes for digital product creation.
6. "Do you include your clients in day-to-day communication?"
Both the client's and our teams are on the same page and stay up-to-date by using our agency management tool Productive. In Productive, our clients have an overview of all the important metrics, like hours worked, hours billed, or costs. This way all parties can track the project's progress in real-time.
7. "How do you guarantee code quality?"
We're proud of maintaining multiple touch points of quality control for our products. Every line of code is reviewed and approved by two sets of eyes through pull requests. Further, our QA team tracks quality control metrics and conducts extensive usability reviews and tests on more than 100+ devices available in our device lab to ensure the highest quality standards.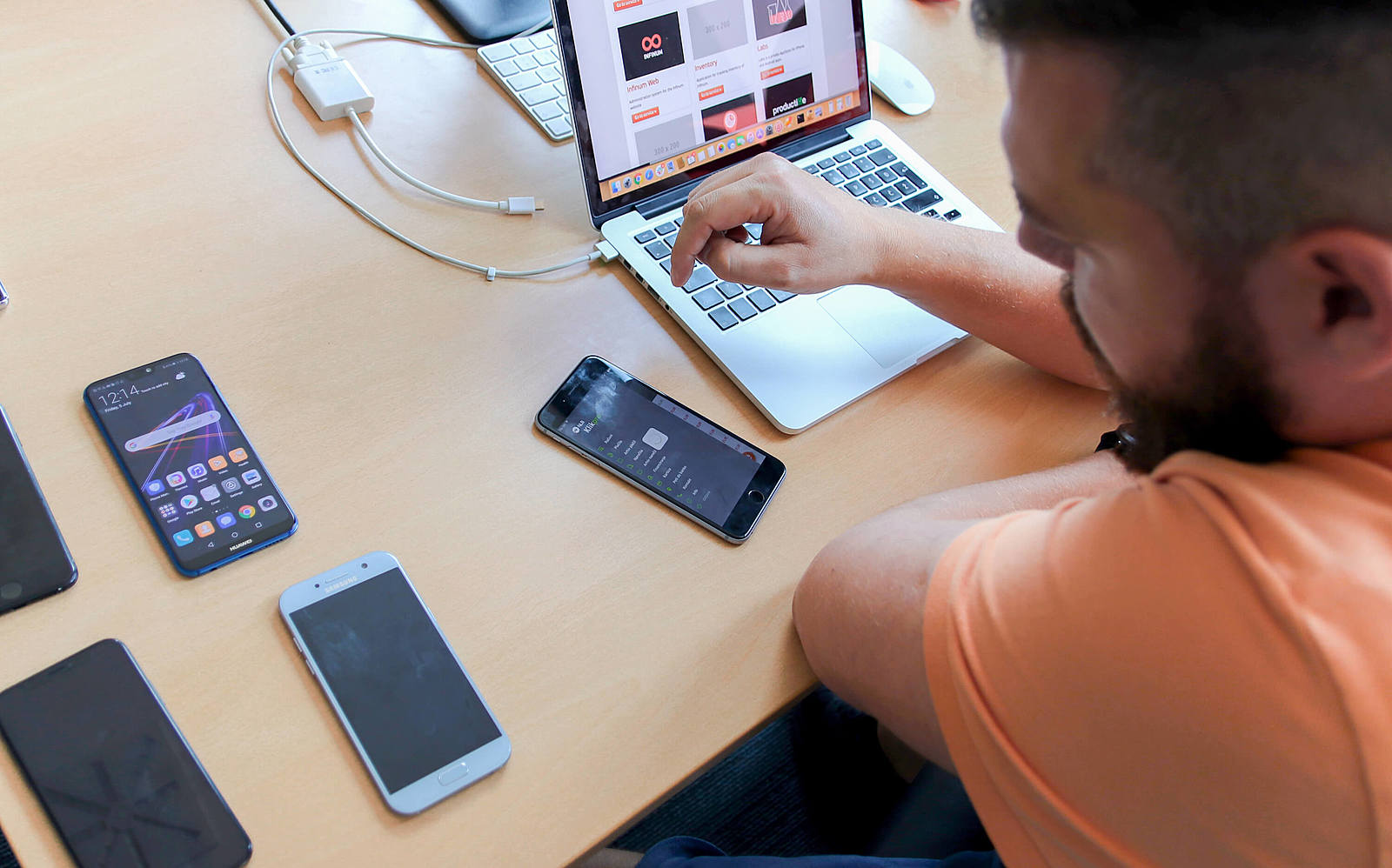 8. "Does the client oversee the project from beginning to end?"
We preach and practice open and transparent communication with our clients through a variety of channels.
One of them is Productive, which provides an overview of tasks. We also use dedicated Slack channels for day-to-day communication and collaboration with all client stakeholders. Depending on the clients' preference, we can switch to Microsoft Teams or even WhatsApp groups if needed.
9. "What if my product is finished and ready for deployment but I don't have a team of developers to maintain it?"
During the initial chat, it's important to set expectations on the degree of involvement after the production has finished, because there's still plenty we can do for you. Some clients want to keep us on deck once the production and testing are concluded, and we always look forward to such long-term engagements.
10. "Once my product is ready, is there a way to secure its growth and its user base?"
Finally, developing and releasing a digital product is just the first step towards success. It's just as important to connect your product with the right market and audience, not only by focusing on acquisition but by constantly working on app improvements.
Our Growth & Analytics team has already helped many clients attract more users and keep them engaged by relying on relevant data. Using different tool sets, from Firebase, Amplitude, Google Data Studio and many more, they devour delightful data, draw conclusions from it, and then suggest the game plan for guaranteed success.
Choose the right custom web application development company for your project
By the time the initial conversation is done, both the client and the vendor will have hopefully gained a better understanding of each other's expectations and potential.
Whether it ends in a realization that the client and the vendor aren't a perfect combination or as a springboard for successful future cooperation, it's better to discover it sooner than later.