How much does it cost to make an app, really? We unravel the mystery of application development costs – why pricing digital products remains an elusive concept and how to embrace that uncertainty while focusing on the end result.
The question we repeatedly get from potential clients looking to upgrade their business through digital is: How much does it cost to make an app?
This question is, of course, asked in the very early stages of our communication, and it is only reasonable. You are interested in obtaining a service, and you want to know the price of that service so you can plan ahead. Except that we have to disappoint you. With digital products, it doesn't work that way.
Every product we design and build is unique, and its price depends on a number of factors. In this article, we explore some of them and explain why digital products don't come with a price tag.
We'll also demonstrate how the accuracy of our estimation is interrelated with the stage your project is at and provide some arguments that can help you embrace this concept.
Can't put a price on application development
How much does it cost to create an app? Is there any difference if it's a mobile app, web app, IoT app, or a unique tool for internal use? Not at all, since all of our software is custom-built.
Don't get us wrong – out-of-the-box solutions are a legitimate choice, too. In fact, we often encourage clients to examine their options before going custom because there's a vast market out there with a plethora of products available to match all kinds of business needs.
When you decide to partner with a digital agency and embark on application development to create something perfectly aligned with your goals, your customers, and your place in the market, realize that we will be building it just for you.
Very often, we don't know what that something will be when you first approach us. And no offense, but… very often, neither do you. Here are a couple of reasons why it's practically impossible to answer the simple question "How much does it cost to make an app" and set a price tag on a custom digital product we've only set out to build.
Reason #1: We don't know the shape and form of your future product
If you come to us with just an idea (your brilliant idea, but just an idea still), there is a whole process ahead of us where we shape that idea up into an actual product roadmap and move on to application development. Only when we know what it is that we will be building can we give you a somewhat accurate estimation, and even then, it's not entirely reliable because there's no price-per-feature nor price-per-technology.
At this point, it's essential to understand how the answer to the question "How much does it cost to build an app" depends on the stage your project is at. The more advanced it is, the more accurate our estimation can be.
How much does it cost to make an app? It depends on when you approach us.
Notwithstanding the uniqueness of every product and every project, we've roughly divided the design and development process into five stages:
1
Your brilliant idea.
Written on a napkin or just in your head. You've come up with this one day when you were working late or during after-work drinks with your colleagues, and you know it's fantastic. The thing that's missing? You need someone to build it.

Cost estimation accuracy: very low. How much does it cost to make an app, with this as the starting point? We could hardly tell you. However, we can tell you the cost of a discovery workshop, where both sides will learn what we need to do next.
2
Product brief.
You've worked on your idea for a while, maybe with your in-house tech team, and you've put together a five-page document containing all the amazing features you would like to have. Aaaand you need someone to build it.

Cost estimation accuracy: low. We appreciate your brief, and it helps us a lot, but it's most likely that we'll still need to go through a discovery workshop to define your needs precisely. Let's put it this way, you know you're building a house, but at this point, it's still unknown whether it's a treehouse or a 12-bedroom villa. We can confidently tell you how much the workshop will cost, but the rest of the process is still TBD.
3
Technical specification.
You've already gone through the discovery stage with a different partner, and you now have a roadmap to your future product. However, there's still no design – and you need someone to build it.

Cost estimation accuracy: medium. At this point, you don't need a workshop, but you do need wireframing and design. Based on your specification, we can give you a pretty accurate estimate for the design part, but estimating the development price is still tricky.
4
Wireframes.
You're halfway through the process. Your idea already has a defined shape that you'll be building towards. However, the design isn't final, and you still need someone to build it.

Cost estimation accuracy: high. You need development and design, and based on the wireframes, we will likely be able to estimate those costs.
5
Final screens.
This is where you actually just need someone to build your product and where you'll get the most accurate estimation you can.

Cost estimation accuracy: very high. You need development, and we'll tell you how much it costs.
Clients come to us in all of these different phases and anywhere in between. Their needs for our services depend on how far along their product is. To put this into perspective, we've created this graph that explains the correlation between client needs and cost estimation accuracy at the respective stage.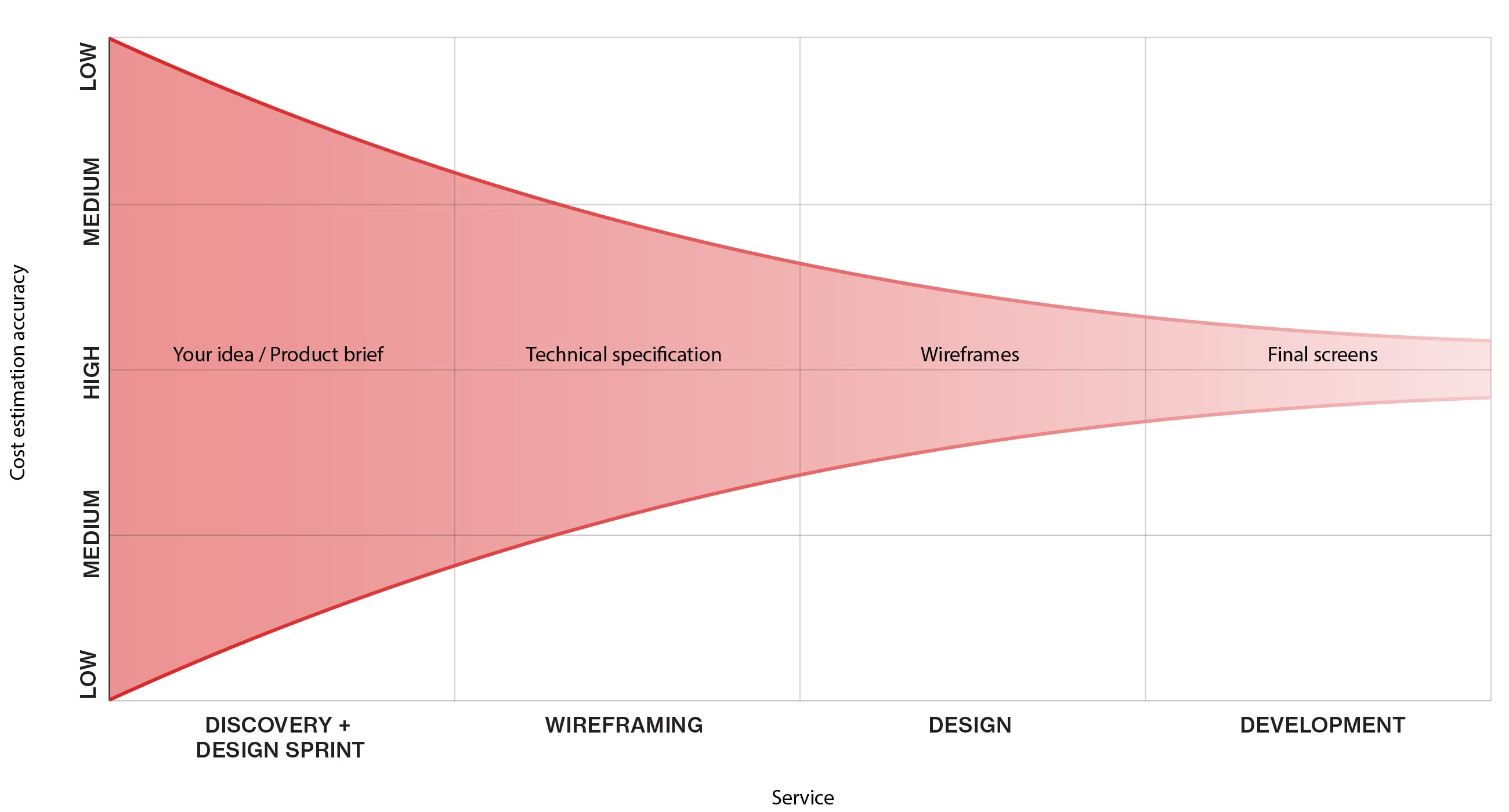 When you're setting out to build a custom product perfectly aligned with your business needs, this is the process you go through. Each phase depends on the results of the previous one, and further steps become evident only when you're already walking the path. If it's any easier, think of it like a game achievement you need to unlock before you can proceed further.
For a quality product, there's no going around this process. If you're having conversations with an agency that gives you big promises early on and says it's able to provide you with an exact price for the whole process, our heartfelt recommendation would be the following – run for the hills and don't look back. Either the cost will go up substantially from the initial estimation due to unforeseen developments on the project, or you'll end up with a half-baked solution that isn't a market fit and doesn't respond to your user needs. And all the money you thought you'd saved would actually be wasted.
Reason #2: You're not paying for the product itself; you're paying for competencies
Application development, or any digital product development for that matter, is not a one-person show. It usually takes a large multidisciplinary team. First, you need strategists to make sure your product is just the right one for meeting your business goals; maybe you need system architects who will be able to plan the technical execution that awaits you, then you need designers, differently specialized developers, and tech experts, and quality assurance engineers to make sure the final result is efficient and bug-free.
You may not need all of them depending on the scope of your project, but chances are you'll need several people with just the right skill set.
When you're paying for a product, you're actually paying for that team's expertise and years of experience working together on various types of projects.
Our people are your people – the benefits of application development with a dedicated team
There are several types of cooperation with us available to clients – even that is custom and depends on your project needs, but the one you get the most value from is a dedicated team. A dedicated team consists of all the experts your project requires, and they usually work on that project and that project only as long as they are needed.
In a way, it is an extension of your internal team. The skills you don't have, we supply. We complement each other and work together as a group, focused on a single goal. This type of cooperation yields the best results because the whole team is committed to the project long-term; they usually work together in the same space, discuss the project among themselves, and share all its highs and lows.
Since we value transparency above all, in this case, the client has complete control of the team regarding its size and setup. They are also aware of the team's budget and burn rate at all times and can make modifications accordingly.
To see what we can do when we employ a dedicated team to a project, you can check out one of our case studies, for example, the Philips MasterConnect app.
Reason #3: Because it's about goals and business outcomes, not features
When you set out to build a digital product, you want it to have a defined purpose. You want it to bring value both to your business and your customers, and creating that kind of product takes more than linking a bunch of features together. It takes discovery.
In order to learn about your target audience, your users' wants and needs, your competition, and market conditions, we usually kick off projects with discovery workshops. Working with our product strategists, you define the shape of your future product before we start application development. It is the only way to make sure you don't end up creating something nobody wants and actually wasting money.
Reason #4: Because we're agile
In our work, we employ agile software development methodologies. Being agile means adopting a set of values, principles, and practices that emphasize flexibility, collaboration, and iterative development. As a result, our teams can adapt to changing requirements, minimize risks, and deliver high-quality products.
When you embrace agile, you're actually giving your product a much better chance. According to statistics, only 9% of agile projects fail, compared to the 29% of projects that employ a more traditional, waterfall methodology.
And when we go agile, we can't give you a fixed price for a product because the product itself shouldn't be set in stone. The whole point of the approach is adaptability – when circumstances change, you change course. Sometimes you'll respond to user feedback; sometimes, there will be external events that require you to pivot (anyone remembers the pandemic?), and sometimes, you'll want to react to what your competition is doing.
Asking "How much does it cost to make an app?" is simply not aligned with the agile philosophy. As we've written before, when the scope of the project is tied to a budget, you're depriving yourself of the chance to respond to change.
The bucket story or why you need to shift your perspective about costs
It might seem counterintuitive, if not even slightly arrogant, but based on years of experience working with clients embarking on their projects, we'd recommend replacing the question "How much does it cost to make an app?" with focusing on what you can get for the budget you have.
This is where the bucket analogy comes in. If you have a bucket, don't ask how large it should be to fit 10 gallons of water, but instead, let us fill it with as much water as it can hold.
When clients are transparent about their budget, it's much easier for us to find a solution that will give them the most value for that amount. It may not be the comprehensive product that would take months of development to complete and go through all the stages described above, but it can be something you can build upon in the future.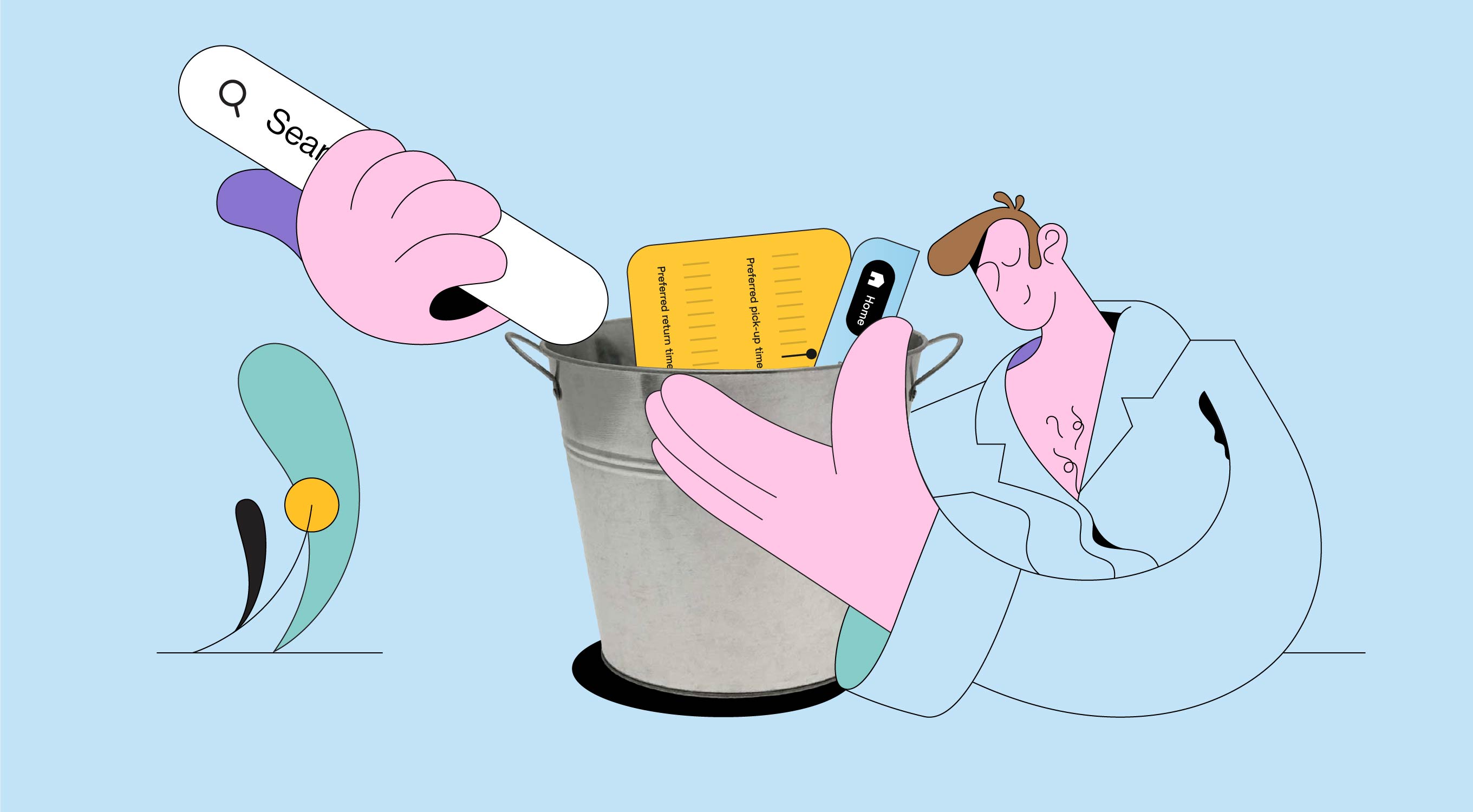 For example, prototypes are a great budget-friendly option for somebody who may still need to secure the total funding for their project and still needs to attract investors. Following a strategy workshop, we get designers on the project to create clickable prototypes. This way, you get an interactive model of your future app that you can show to potential investors. Most of them are used to this concept, and having the prototype in their hands can give them more confidence to invest in a product that is yet to be built.
Still concerned about the cost? Don't be.
Choosing your digital transformation partner is a leap of faith. Maybe you can't know the total cost of a months-long project, but you can, and should, feel confident that there's an outstanding product waiting for you at the other end.
Why should you trust us on this? There are a number of reasons.
Established processes in place
We've been on the market for almost 20 years. We've worked on so many different projects for different clients and, over the years, created ways to do that as efficiently as possible. For everything we do, there are established processes we follow to make sure we reduce the risk of error and concentrate our efforts on the right tasks. We waste no time, and you waste no money. And you may even feel inspired to adapt your own processes.
Efficient communication
Transparency is our thing. For all of our projects, there's a communication system in place so our clients know exactly what's going on every step of the way. Poor communication can do a lot of damage – it drags out processes, deters decision-making, and can easily lead to conflicts. Good communication makes for a seamless workflow and saves money by reducing delays.
Big enough to deliver
As a large company with a diversified skillset, we are able to handle projects of practically any scale. Our elaborate planning and scheduling system allows us to tailor a team to match your requirements and ensure its availability throughout the project's course.
Cross-team collaboration
Because we cover all stages of a digital product development lifecycle, we can easily organize collaboration across different teams. This again improves efficiency and saves time (i.e., money) in the long run. For example, when QA engineers work alongside developers right from the early stages of a project, they identify quality issues before they reach the production phase, so there's no need to go back in to fix them once development is complete.
How much does it cost to make an app? Let's find out together
We're aware that custom digital products can be pricey. And as if that isn't enough, it's hard to answer the common question "How much does it cost to make an app?" and say precisely how pricey at the start. Hopefully, the reasons stated above managed to shed some light on this elusive concept and gave you a better understanding of the whole development process from idea to realization.
The digital landscape is rapidly changing. In order to keep up, you have to be flexible and embrace the idea that rigid, traditional models of project work don't apply. We might have to change course mid-way, and that is ok. In fact, it is the only way to make sure that what we deliver brings value to you and your business.