Career development is a marathon, not a Sprint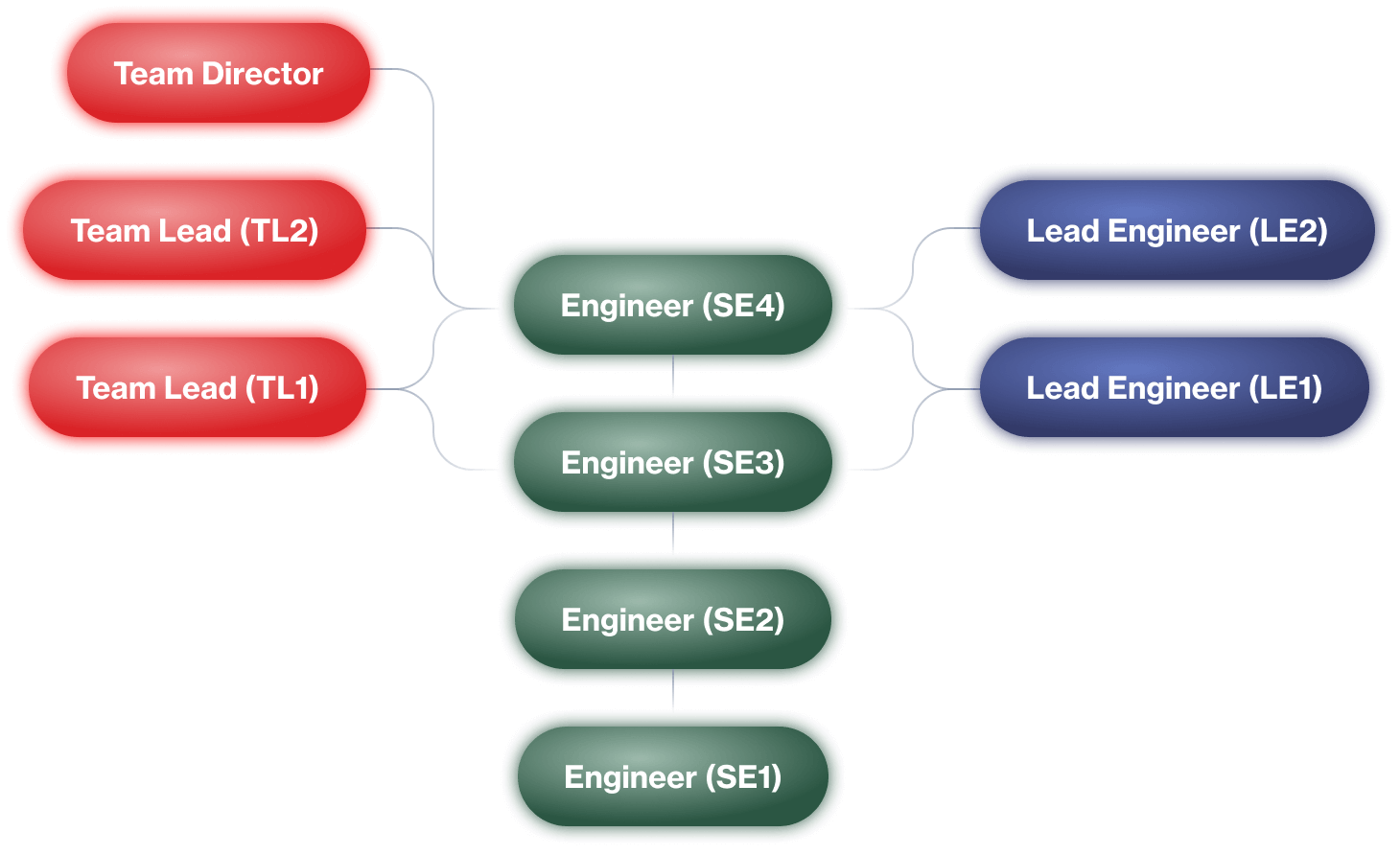 Software Engineer
Engineer who understands team tech stack and can be utilised on active projects. Works under more active mentorship. Autonomously communicates directly with the client.
Software Engineer
Engineer who owns their project domain and is skilled within the team tech stack. Provides business value to the client. More experienced SE2 can become mentors. Focuses on personal technical growth and is actively involved in team and project decisions.
Software Engineer
Project lead engineer. Organizes project team and processes. Decides on the technical aspects of a product or feature. Provides insight into the project to other team members and provides continuous feedback to the client. A highly communicative and visible person inside the team.
Software Engineer
Technical expert. Works on strategically important or complex projects. Stays up to date on all aspects of one's seniority knowledge. Mentors more experienced engineers.
Lead Engineer
Works on increasing the seniority of the whole technology team. Continuously improves team tech stack and organises improvements across the team and their projects.
Lead Engineer
Technology authority. Organises lead engineers to implement prioritised improvements efficiently. Pushes cross-team initiatives that benefit company productivity. Actively cooperates with the business development team. Oversees strategically important projects.
Team Lead
Manages between 4 and 15 people. Still performs hands-on work if managing less than 12 people. Focuses on individuals and their careers. Has a good overview/ownership of the projects that their directs are working on. The entry-level position for management track; the position has a lot of new ground to cover. Senior-level technical expertise, but not necessarily the most senior person in the team.
Team Lead
Has significant experience managing people. Recognized for developing expert Individual Contributors. Mentors other Team Leads in the team. Pushes cross-team initiatives, i.e. not focused on just their team. Recognized by other Team Leads for their leadership skills. Very efficient at removing blockers.
Team Director
Manages Team Leads and Technical Leads. Develops careers for all tracks in a team with experience and ease. Implements best practices from other teams. Has a good overview of all strategic projects in the team. Recognized for technical excellence but also high leadership capacity.
Get the Engineering framework
Thank you for your interest in Infinum's progression framework for engineers. Sign up to receive the resources in your inbox.
EXPLORE OTHER PROGRESSION FRAMEWORKS