Get the picture about advancing your career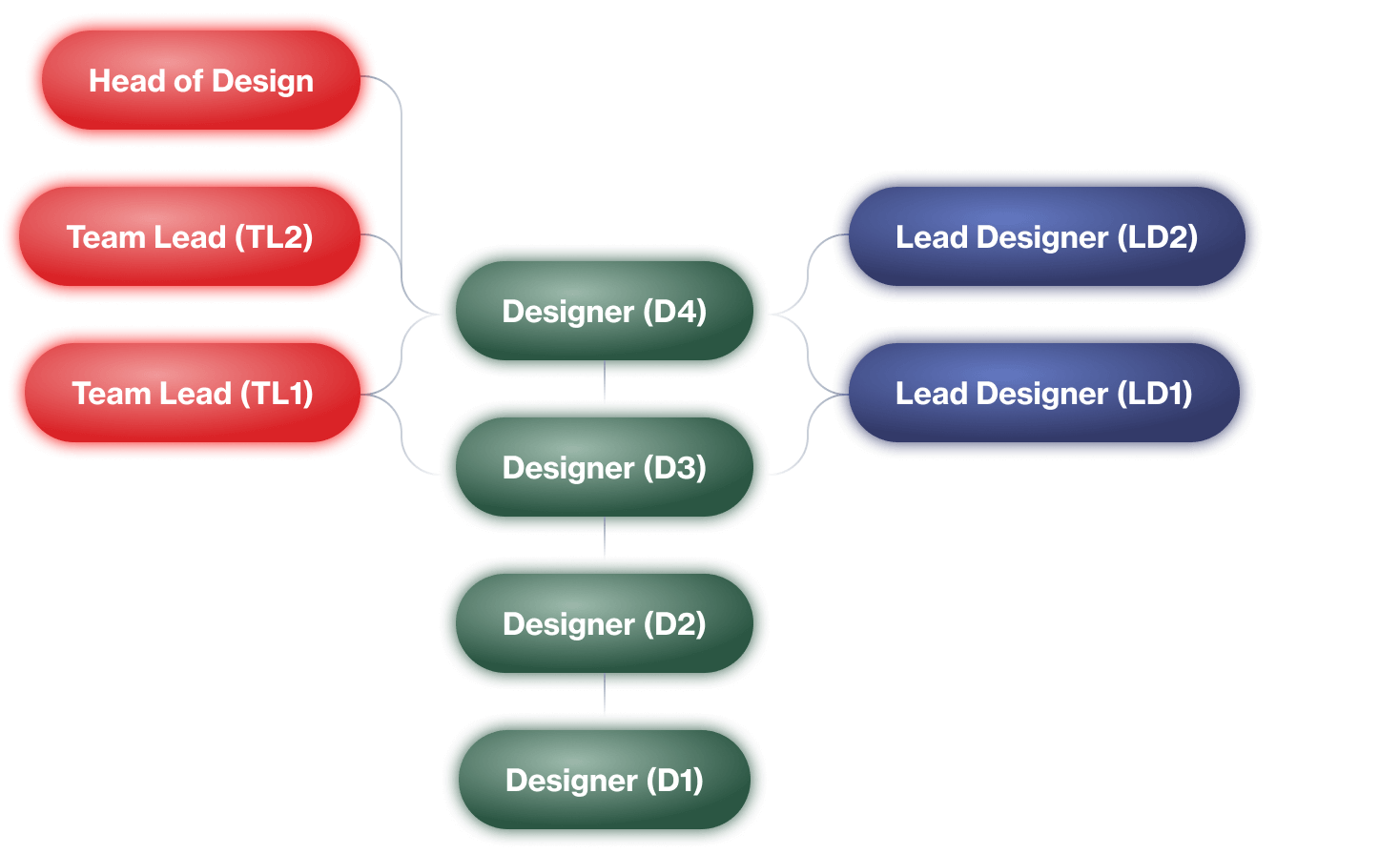 Designer
An entry-level designer who understands the basic user and business needs and can solve tasks on ongoing projects and features. Works under more active mentorship. Autonomously communicates directly with the client.
Designer
Autonomously works on the project. Detects the new user and business needs. Actively works on all project phases, from the workshop and research to the development handoff. Supports UX Strategists during the discovery and research phases. Actively uses UX methods and deliverables (card sorting, user interviews, flowcharts, journey mapping, etc.) prior to the UI phase. Easily explains and argues design decisions. Understands perfect is the enemy of good and pushes work through.
Designer
Proactively adjusts the design approach on the assigned project. When needed, can independently facilitate product feature workshops. Mentors the less experienced team members and drives internal team initiatives (Dribbble, File organization, etc.). Is able to support basic business development process needs (estimates or biz dev calls).
Designer
Takes ownership and leadership of assigned projects. Expert knowledge of design patterns, methods and processes for digital platforms, and educates and inspires the team. Exclusively dedicated to complex and impactful client projects. Responsible for reviewing peers' work. Responsible for setting up and conducting project processes and activities within the planned budget and timeline. Proactively works on project strategy. Possesses outstanding knowledge of visual design up to the highest industry standards and is able to guide and inspire the team to deliver the same. Supports internal team and process growth but is more focused on project work.
Lead Designer
Works and manages complex and impactful client projects (detects critical project situations and mitigates them). Responsibly and actively works on the internal initiatives, improvements, and OKRs. Highly communicative and visible person inside the team.
Lead Designer
The main thought leader and influencer in the team. Respected as an authority in the design field whose opinion is sought (particularly by other more experienced designers). Has impressive business analysis capabilities that enable them to assist and guide a digital product's strategy. Inspires and pushes the client and the team to make tough business and product decisions for greater and long-term benefits. Works half-time on impactful client projects.
Team Lead
Manages between 4 and 15 people. Still performs hands-on work if managing less than 12 people. Focuses on individuals and their careers. Has a good overview/ownership of the projects that their directs are working on. The entry-level position for management track; the position has a lot of new ground to cover. Senior-level technical expertise, but not necessarily the most senior person in the team.
Team Lead
Has significant experience managing people. Recognized for developing expert Individual Contributors. Mentors other Team Leads in the team. Pushes cross-team initiatives, i.e. not focused on just their team. Recognized by other Team Leads for their leadership skills. Very efficient at removing blockers.
Head
Manages Team Leads and Technical Leads. Covers a wide range of domains in leading the Department. Engaged in all important decisions regarding the Department. Recognized for expertise, efficiency, reliability, and leadership.
Thank you for your interest in Infinum's progression framework for designers. Sign up to receive the resources in your inbox.
EXPLORE OTHER PROGRESSION FRAMEWORKS