The current pandemic has changed the way we live and buy, which means that many businesses had to change their whole business model. This is nowhere more evident than in the retail space where many retailers had to go digital if they wanted to reach their customers.
One thing is sure – digital transformation in the retail industry has been on steroids in light of the market changes we've seen in the first half of 2020.
So, how have retailers been holding up, and what can we expect post-COVID?
Digital transformation in the retail sector
Retail technology has transformed the purchasing experience by:
affording customers the convenience to make orders from the comfort of their home
enabling them to purchase products that are unavailable in nearby stores giving access to a broader range of products
giving customers the ability to research products, match prices among retailers, and have overall better bargaining power
providing more detailed product information to the customer than most in-store staff can offer
offering a more personalized shopping experience
Given the abundance of payment and shipping options, visual product previews, and the ability to return products for free if they do not like them, most obstacles that were stopping people from buying retail products online are gone.
This is exactly why eCommerce was already on the verge of trumping traditional retailing even before COVID-19. According to Statista, the global retail website traffic hit 14.3 billion visits in March 2020, signifying an unprecedented growth of e-commerce during the lockdown.
The consumer shopping behavior report from Competera highlights how consumer buying preferences have changed, with the most interesting statistic being that 23% of respondents (US) saying how they continued shopping more online even after the lockdown.

The impact of COVID-19 on the global economy and commerce is being felt in more ways than one. According to the World Bank Global Economic Prospects report from June 2020, a zero-point projection of 5.2 percent contraction in global GDP in 2020 was predicted. This forecast was based on the market exchange rate weights.
It's no secret that stay-at-home order and social-distancing measures being one of the protocols enacted to curb the spread of COVID-19 have instigated the shutdown of hundreds of thousands of retail outlets across the world. This restriction of movement has invariably threatened consumers' spending and the attendant retailers' earnings for the conceivable future.
To stay afloat, many retailers have no option but to adapt to the changing market realities. There has become an evident shift from physical to digital commerce with many retailers adopting e-commerce platforms or building internal digital solutions to run their businesses.
Adobe Analytic reported that online sales in the US rose by approximately 50% at the peak of the pandemic as consumers continued shopping while on lockdown.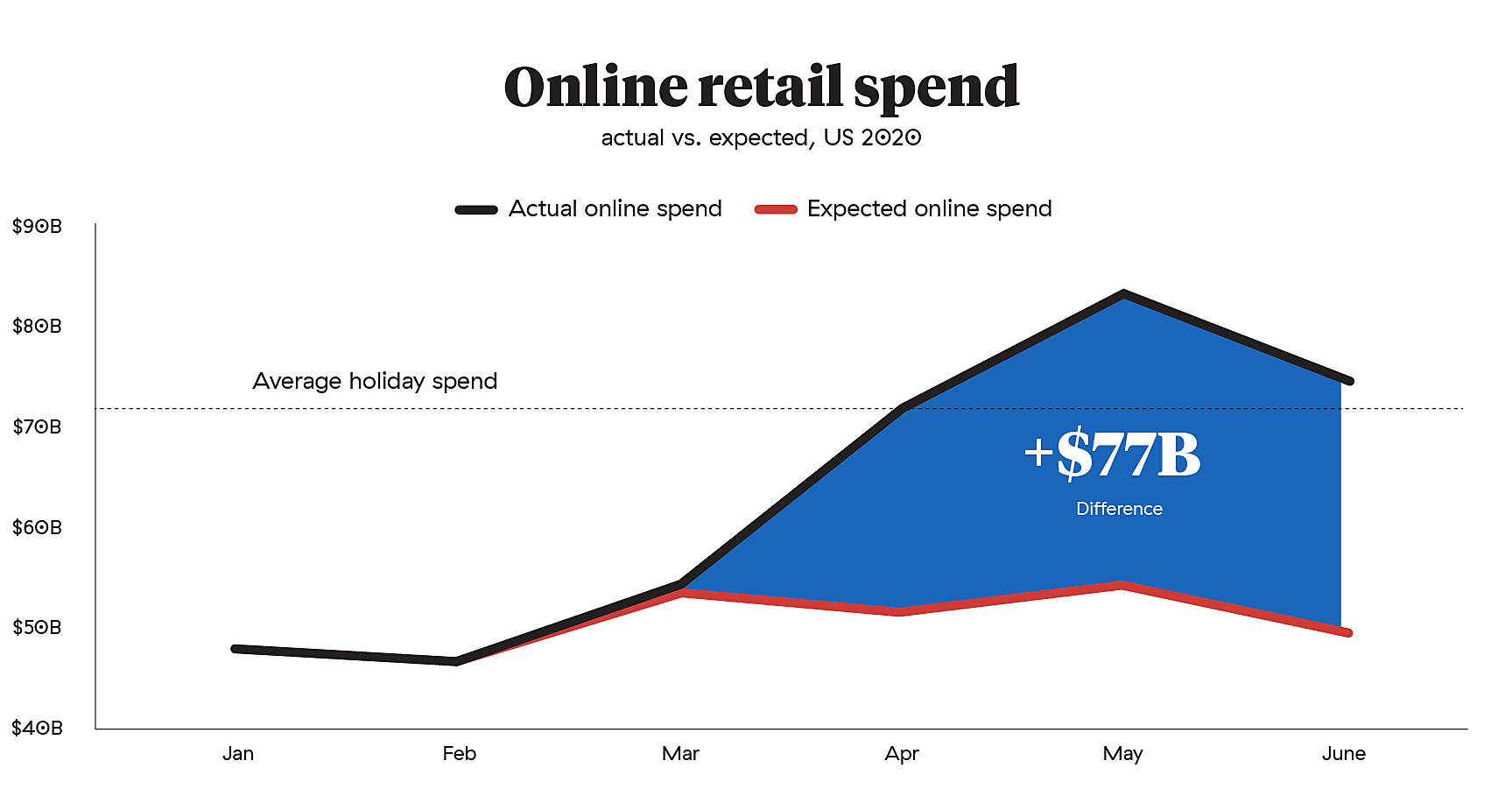 Even though all business owners knew that going digital is the solution to most of their problems, digital transformation can't happen overnight. You have to be ready to research, plan, invest in the right technology, and nurture change management after the implementation is over.
In essence, COVID-19 has massively accelerated the digital transformation in retail that was already picking up steam over the last few years.
What happens to retailers who fail to adapt?
According to Business Insider Analysis, at least 4,700 US stores are confirmed to be closing in 2020 due to their inability to cope with the market recession caused by the COVID-19 crisis.
Like many affected retailers, Neiman Marcus Group, one of the US top retail store chains, went bankrupt. They have furloughed thousands of their corporate and regular employees as they have shuttered most stores. Also, Pier 1 is closing all its retail stores, after filing for bankruptcy due to a high debt profile and their inability to fully transition into digital retail.
Similarly, due to the apparent COVID-19 crisis and the uncertain economic future due to Brexit, reports from BusinessLive in the UK, show that many retail stores have gone into administration already while others will, by the end of 2020. Examples of such big retailers are TM Lewin and L. Brand, the parent company of Victoria's Secrets and Bath & Body shops.
According to a report from Retail Gazette, TM Lewin initially feeling the stress of a struggling retail sector has become a victim of the COVID-19 crisis after proving unable to cope with the pressure from the national lockdown on non-essentials. In another report, Forbes shows that over 250 Victoria's Secret stores will be permanently shuttered as the pandemic finally put the nail to their already shaky financial coffin.
Inspirational digital transformation success stories
For brands that are ready to harness the power of digital transformation, this is a great opportunity to actually grow their business.
Reports from eMarketer show that most big US retail companies like Target, Costco, and Macy's are not affected because they already had an existing integrated online-offline retailing model before the pandemic. Similarly, small brick-and-mortar retailers in the US that took the initiative and swiftly transitioned into doing business in the digital space include brands like Lammes Candies and Tylers, two candy companies.
In the UK, high-end retail stores like Tesco and Walmart (ASDA) remain firmly in business, notwithstanding the pandemic, because of their integrated and functional retail channels.
To survive the apparent COVID-19 conundrum and stay in business, smaller retail outlets like Kett's Book (bookshop) and Jumbo Records (record store) went online to continue offering services to their customers, albeit digitally.
Where will eCommerce be post COVID-19?
The post-COVID-19 projections suggest that e-commerce is going to continue to grow because many consumers have made online shopping part of their regular routines (and we can't discard the option of repeat lockdowns). Retailers will have to work to put greater emphasis on online and mobile ordering and ensure to create more intuitive user experiences.
A survey from Competera we mentioned earlier shows that in the US, as many as 29% of buyers say that they will never engage in offline shopping; in the UK, 43% of consumers say that they expect to continue shopping the same way even after the lockdown is over.
Nonetheless, some purchases are still best made in-store, and just because the shopping preference of most customers is online does not mean offline stores will disappear. Going forward, it is expected that most retailers will have to balance the e-commerce experience with in-store offerings to create a consistent and holistic approach across all channels.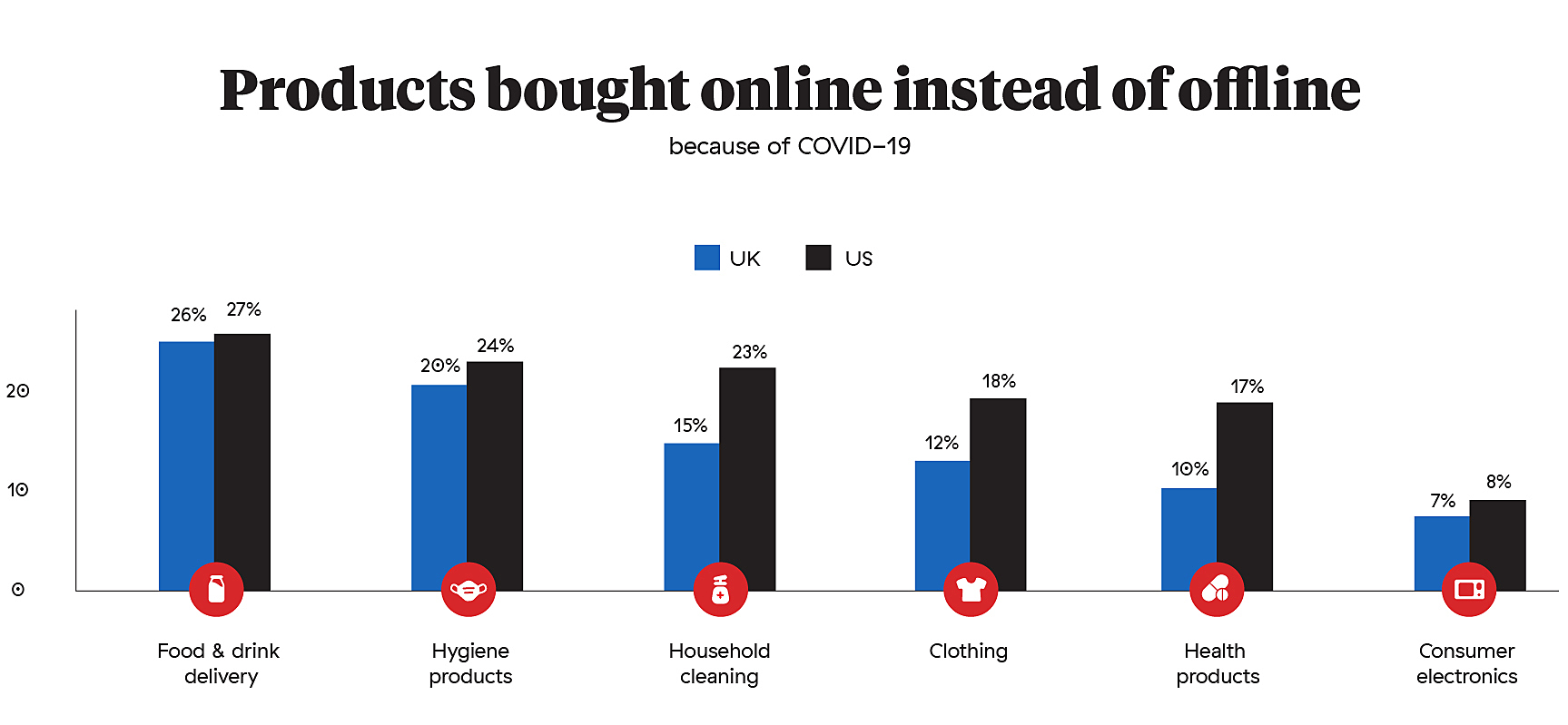 While curbside protocols vary by retailer, stores ranging from grocery stores to big-box retailers and specialty stores have started offering curbside pickup, and customers appreciate the safety and convenience.
These examples perfectly illustrate how technology and good ideas work together to deliver innovative solutions to match market demands.
Retailers, build and expand your digital channels – now
According to KPMG, the realities of retailing in a COVID-19 world suggest that forward-thinking retailers are evaluating the situation and planning accordingly by adopting best practices, innovative responses, and new ideas that are emerging across the industry.
Whether this pandemic persists for months or years, it is clear the retail industry will never be the same. It's time to acknowledge this reality and start adapting because digital commerce is a mainstay.
Even though the pandemic has impacted retail business on a global scale, it has also created new opportunities and a sense of urgency for companies to build and expand their digital channels.
As the world emerges through the ashes of COVID-19, who will be better positioned to succeed than those who have prioritized digital transformation?