The only feeling more exhilarating than scoring an amazing new project is seeing the satisfaction of clients when they see the results. The path to creating a digital product usually begins with a discovery workshop.
These workshops usually happen on-site or at our offices, with the majority of stakeholders present and focusing on the project. Over the years, we have delivered hundreds of projects and facilitated just as many workshops, most of them face-to-face.
However, narrow budgets, overlapping schedules, tight deadlines, or even global pandemics can get in the way of in-person workshops.
When that happens, technology comes to the rescue, and workshops go online. There are fewer breaks and fewer snacks, but remote discovery workshops are a crucial step in setting up the grounds for building a successful digital product.
Don't skip the discovery stage
We've been creating software long enough to confirm that our know-how in software design and development is best utilized when the entire team understands what they're building – and for whom.
During a discovery workshop, we establish a high-level understanding of the client's business and market, learn about end users and their needs, and flesh out possible solutions to the expected or existing problems.
Additionally, we sketch early concepts, define a preliminary tech stack, and discuss details such as roadmaps, priorities, and potential bottlenecks.
A lack of technical knowledge, misunderstanding of the complexities of software development, and underestimating critical details can turn into expensive problems for the client at a later stage if they are overlooked at the beginning.
7 steps to successful remote workshops
This framework has helped us run numerous remote workshops successfully. With every new iteration our team does, we keep perfecting it.
1. Break down your workshop into smaller chunks
Remote workshops require more focus and discipline from all participants. It's simply not as interactive as meeting in person, and sitting for long hours in front of a computer makes it easier for our brains to wander off.
To make remote workshops effective, the agenda should be tighter, and things are packed into a shorter time period – max 4 to 5 hours a day, down from 7,5 hours for in-person workshops. In one of our remote workshops, we decided to break down what would have been a one-day workshop into four 2-hour remote sessions throughout the week.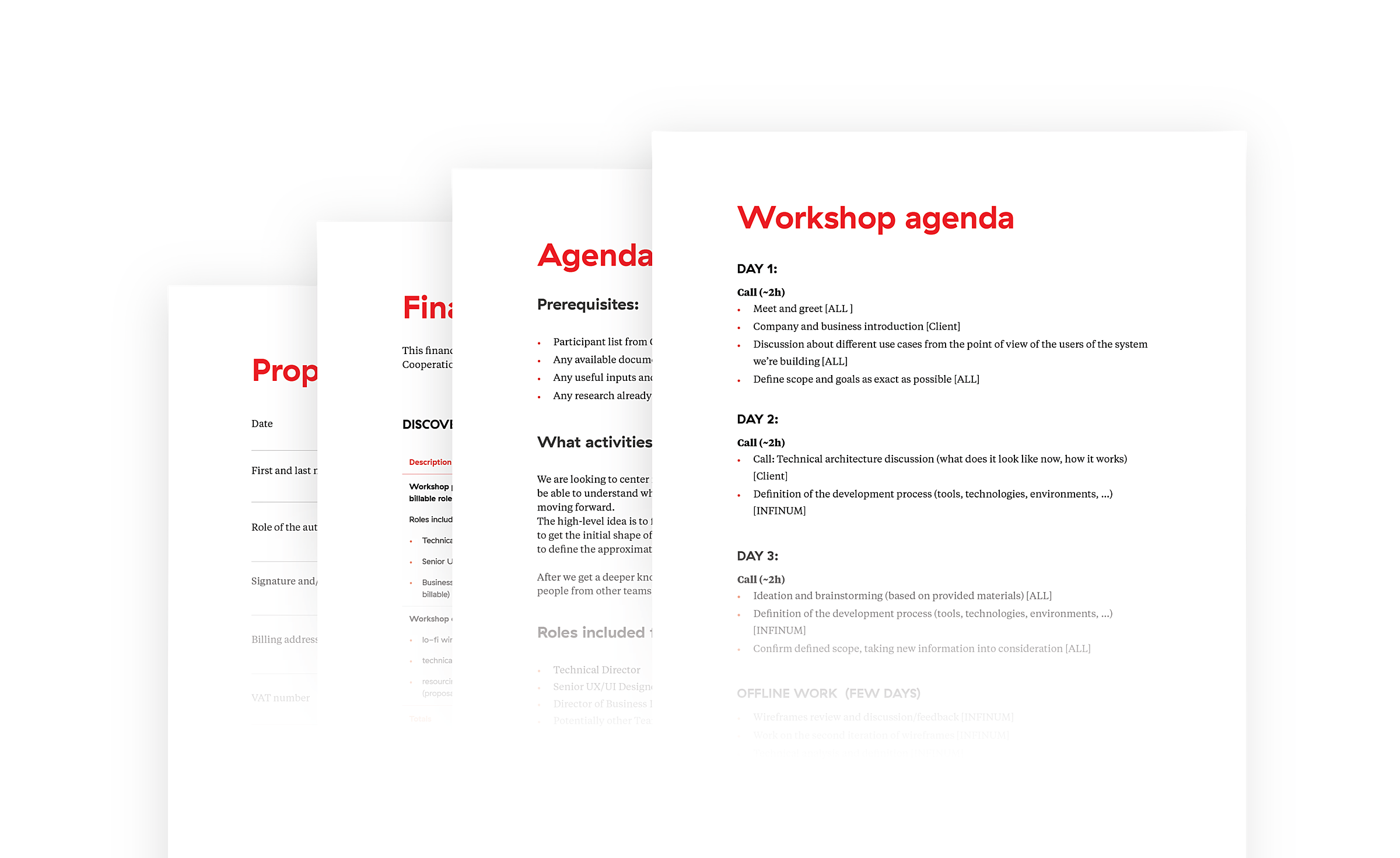 2. Have a well-defined agenda and workflow
Make sure to communicate the agenda at least one week in advance. This is a no-brainer for any meeting, but it's crucial for workshops because the goal is to have a bunch of data and information to work with by the end of each session.
Our teams have two agendas; one for participants and one for the facilitator. The former is a general one that we share with the calendar invite. The latter is much more detailed and plans out every ten to twenty minutes of the workshop. This way, the materials and resources are all in one place, and this also helps keep up the pace of the workshop.
The agenda should account for details like introduction, lunch, snacks, and bathroom breaks. A rule of thumb is to secure two 2-hour slots for high-focused work in one day and have everything else planned in between.
3. Limit the number of participants
Workshops are most efficient with five to six participants. From our side, there's usually a business development representative, a technical director, and a lead designer. From the client's side, it really depends on what the project is about.
It's important to define who's going to be the project owner and have them present. Other stakeholders that will have direct oversight of the project are also crucial in this phase.
Keep in mind that people aren't engaged when they have nothing to contribute to the topic, so tailor the workshop in a way to get the most out of each participant.
4. Assign homework and make sure everybody comes prepared
Giving out homework helps keep remote workshops more structured and goal-oriented. Questions you would typically ask during in-person meetings can instead be handed out via email in the form of a questionnaire.
The premise here is that the client knows their business better than anyone, so make sure to ask things like who your target audiences are, who the competitors are, how they are performing, where they draw inspiration from, etc. These questions will help you set the narrative and focus on what's important.
5. Use video conferencing that supports screen sharing
For maximum efficiency, every participant should join the call from their own computer. Our teams use Zoom for remote calls (as the rest of the world, apparently) and sometimes Google Meet.
Encourage everyone to turn on their cameras, since it makes the entire experience more personal. Having said that, it's useful to have participants check their internet connection to prevent major disruptions during the call.
It also pays to remind participants of the expected code of conduct, whether it's muting the microphone unless speaking, using the raise hand option, etc.
6. Avoid video conferencing chats
Don't rely on the chat function within the videoconferencing app because the transcript tends to disappear the second after you hang up, plus there is no option to upload files.
Also, you'll want to have the entire correspondence from the workshop available at later times, and Slack has proven fantastic for that. You can dedicate a specific channel to the workshop and keep all the resources and links there. It is also useful for note-taking, sharing sketches, or any form of written feedback.
7. Use a digital whiteboard or a document
Unlike using sharpies, post-its, and physical timers, remote workshops require a different set of tools. To replicate the meeting room setting as best you can, try using digital tools such as Figma or Miro.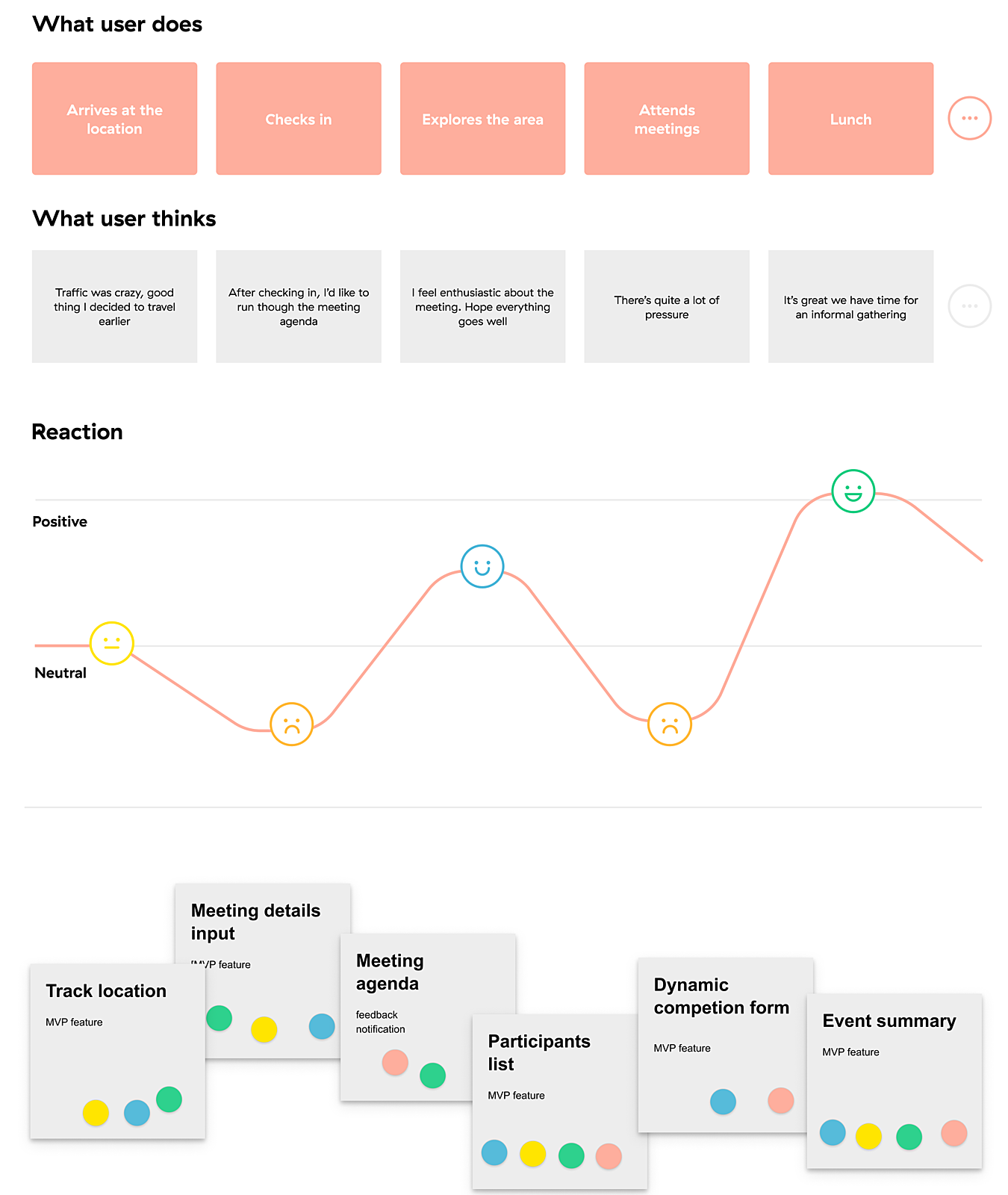 During workshop preparation, it's best to pre-fill certain boards and just add the content provided by participants. There are a bunch of pre-made templates for drafting mood boards, user journeys, and prototyping. Our teams use a custom-branded set of boards.
The bonus step – be prepared to improvise
While our list of steps for carrying out a successful remote workshop covers a lot of ground, the world will always be more unpredictable. Sometimes it's the machine that will freeze. Other times, it will be the human.
We found that having good improvisation skills is just as important as coming prepared. If you feel you are not getting the expected results, don't be afraid to make on-the-spot tweaks.
Remote is the new on-the-spot
We hope these tips help your team conduct better remote workshops in the future.
Keep in mind that being on the same page about the vision, anticipated outcomes, and the steps necessary to achieve them is more important than all participants being in the same room.