When I was a kid, one of the most popular TV shows was The Wheel of Fortune. I remember contestants buying vowels in the hopes of figuring out the phrase and winning it big. You might say we've done it the other way around.
Like many people starting companies, Matej and I started small. College students with lots of ideas but limited in funds, we had to focus our spending.
We needed a name for our company, and Infinum sat well with us. Since we started out in Croatia, we could get an .hr domain for free.
After branching out globally, we wanted a domain that wasn't country-specific. In light of that, we decided to move to a paid .co domain.
Why .co? Well, to be honest, a .co was the closest thing to a .com we could get.
How important are domains anyway?
With around 495 out of 500 companies from the list of largest US companies in 2016 owning a .com domain, it almost feels like having a top-level domain is a prerequisite for running a successful business.
However, not only did some of the most famous companies start out without a .com domain–some didn't even have the same brand name when they started. Do you recognize PlayFourSquare, GetDropBox, or TheFacebook?
"Product names are bigger than domains," claimed Jason Fried, the founder of Basecamp.
Basecamp used to live on BaseCampHQ.com until early 2012 because the team liked the product name so much, they went with it despite the .com domain not being available.
It doesn't seem to have hinged their growth in any way, and they ended up getting the .com domain eventually.
Speaking of growth, our potential to invest in the company grew as Infinum grew. It was around our 30th team member that I started digging into the infinum.com domain. I decided to get in touch with its owner and try to get it.
The start of something wonderful
Domain acquisitions are sometimes nice, sometimes not. A particularly nasty one is the case of Nissan computers vs. Nissan motors, which has turned into a real-life episode of Jerry Springer.
Luckily for us, the guy who owned infinum.com was a real sport. When I first reached out to Alexander in 2012, little did I know we were at the dawn of a back-and-forth relationship that would last longer than the red wall graffiti guy.
Alex ran a software development company called Infinum in the US. He was not at all interested in selling the domain. His clients knew him under the name and switching to another one would have been risky.
However, Alexander suggested he would save my email and reach out to me if his position on the domain name ever changed.
Busting the 7-year-itch myth
I decided to ping the guy every year for as long as it takes, until I get the domain. As time went on, we grew and had more money to invest, so I would increase my bid.
A common saying in the world of sales that a good salesman should follow up at least 7 times before closing a sale. What a bunch of amateurs… Alex and I shot e-mails back and forth at least 5-6 times a year–and this went on for 7 years.
While our Infinum was growing, Infinum.com had been taken down as Alexander decided to move his focus to other ventures. Even so, Alexander was not ready to give up the domain.
My first offer was for $3000. His counter-offer was for $100,000. That's what I call a bid-ask spread.
Is one letter really worth $25.000?
Search engines like Google have long been notorious for ranking non-country-specific domain names better in search results than specific country domains.
After all, .co is the top-level domain (ccTLD) for Colombia. (I'm sorry to say that I've never been to Colombia. People say it's amazing.)
But if you ask an SEO expert with 20 years of experience, any TLD can rank just as well. The key to making sure a website doesn't suffer in the rankings, is using the plain old best SEO practices.
On a more obvious and way less technical note, the majority of people will assume your URL ends in .com. For years, Alexander used to forward us emails from people who got our domain name wrong.
Another investment in our brand
At the end of the day, getting a .com domain might be considered a badge of honor, a rite of passage. But this didn't matter to us that much. The way we see it, purchasing a .com is another investment in the Infinum brand. And those have always paid off for us in the past.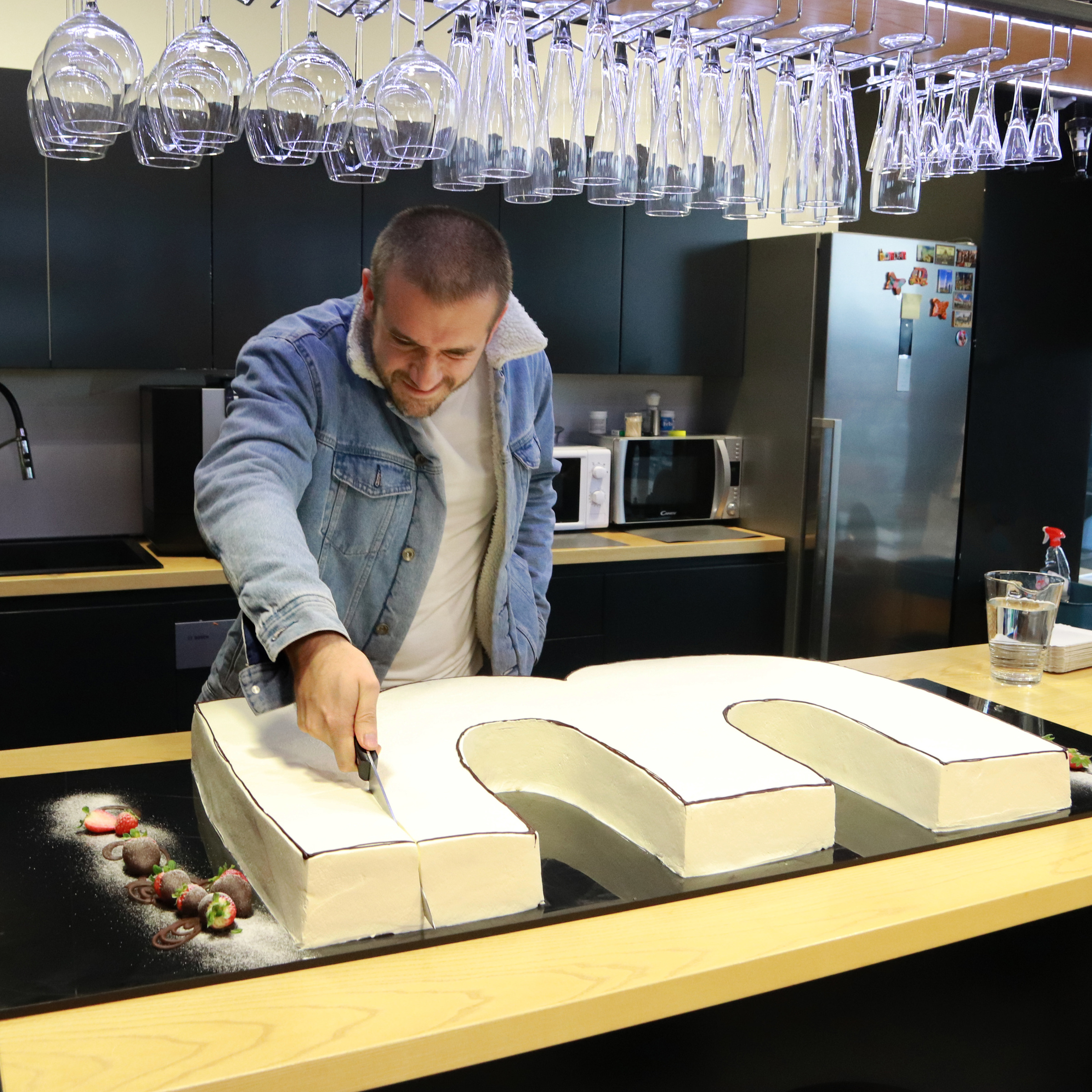 It also makes for a great reminder that patience and consistency always yield results in the end… and that all great occasions should be celebrated with cake.