An unsuspecting observer strolling around our offices in the early morning might assume that the dozens of colleagues sipping on a cup of hot brew are contemplating code and design. Actually, they are probably deciding what to order for lunch.
The only thing more agonizing than deciding what to eat is the anticipation of waiting for it to arrive and the chaos of rushing to get it once it's delivered.
Hundreds of people ordering at the same time gets complicated
On top of making sure everybody has got what they need and handling all things and people incoming, like receiving mail and greeting clients and employees coming in for interviews, Office Managers are often also responsible for managing food deliveries and notifying colleagues that their order has arrived.
Keeping track of every order and reaching out to each person individually takes a lot of time even if it's only for a handful of people at the same office.
When it comes to hundreds of employees scattered across multiple floors and buildings, the whole ordeal becomes unmanageable.
Starving for an efficient notification solution
We needed to find a way to notify people that their food has arrived without the Office Manager having to ping everyone individually. We had to address the fact that oftentimes the food can arrive at an inconvenient time, e.g. while a meeting was in progress.
Other common day-to-day food delivery problems included these:
Nobody was at the front office desk when the delivery arrived
Colleagues forgot to leave the money for the order, and/or
Colleagues were unreachable when the delivery arrived
The delivery was late or never came
Also, more often than not, several people would order together so we wanted to think of a way to notify everybody at the same time.
We brainstormed various solutions and tried different approaches before we finally thought of the one – the game-changing app InFINO.
Fear not, InFINO is the smartest delivery bot
In resistance to the old adage declaring that "the shoemaker always wears the worst shoes", we decided to build an app that would act as a middleman between hungry programmers and the delivery people.
A couple of weeks in the workshop later, InFINO saw the light of the day. Dubbed after a mash-up of the brand name Infinum and the Croatian word for "delicious" – fino, it's an app integrated with the company's Slack which notifies people that their order has arrived.
We've used Slack as the central communication tool since 2015 because it's simple, straightforward, and customizable. It's also the place where everybody is reachable most of the time so it was an obvious platform choice for sending out delivery notifications.
Managing deliveries is as easy as a pie
To submit an order with InFINO, users write a command in Slack (/infino), which then opens a pop-up to fill out order information.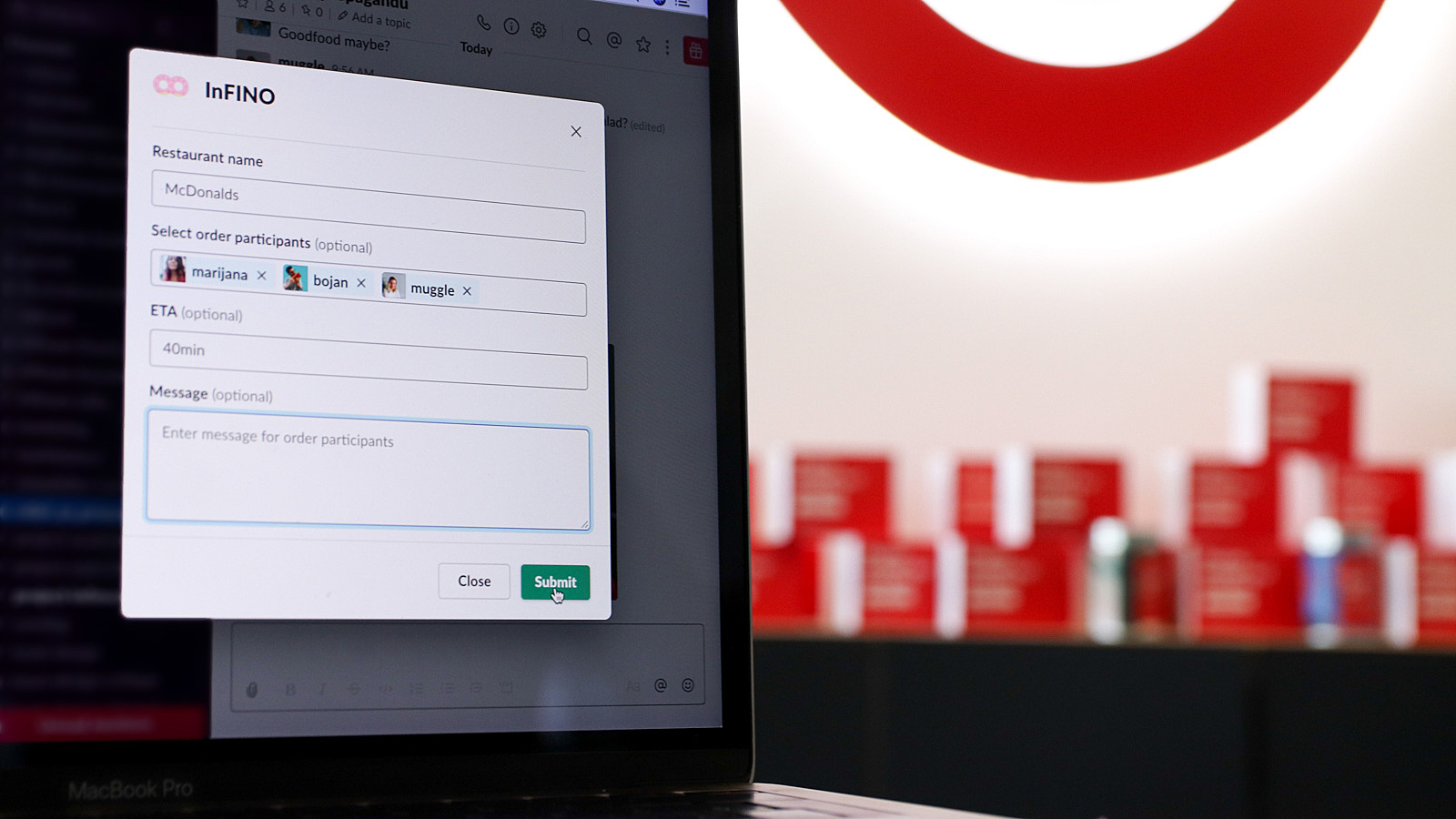 Apart from the restaurant's name, users can tag other colleagues who are participating in the order, write an estimated time of arrival, and any additional remarks.
When the information has been filled out, the press of the Enter key launches the order into the tablet located at the front desk. Fweeeee!
All delivery people are directed to the front desk, as that's where the shared kitchen is.
InFINO does not handle any money transactions, so unless an order has been paid by card, the person ordering is supposed to leave an exact amount of cash on the designated money rack.
Once the delivery person arrives with the order and collects the money, they will mark the order as delivered on the tablet.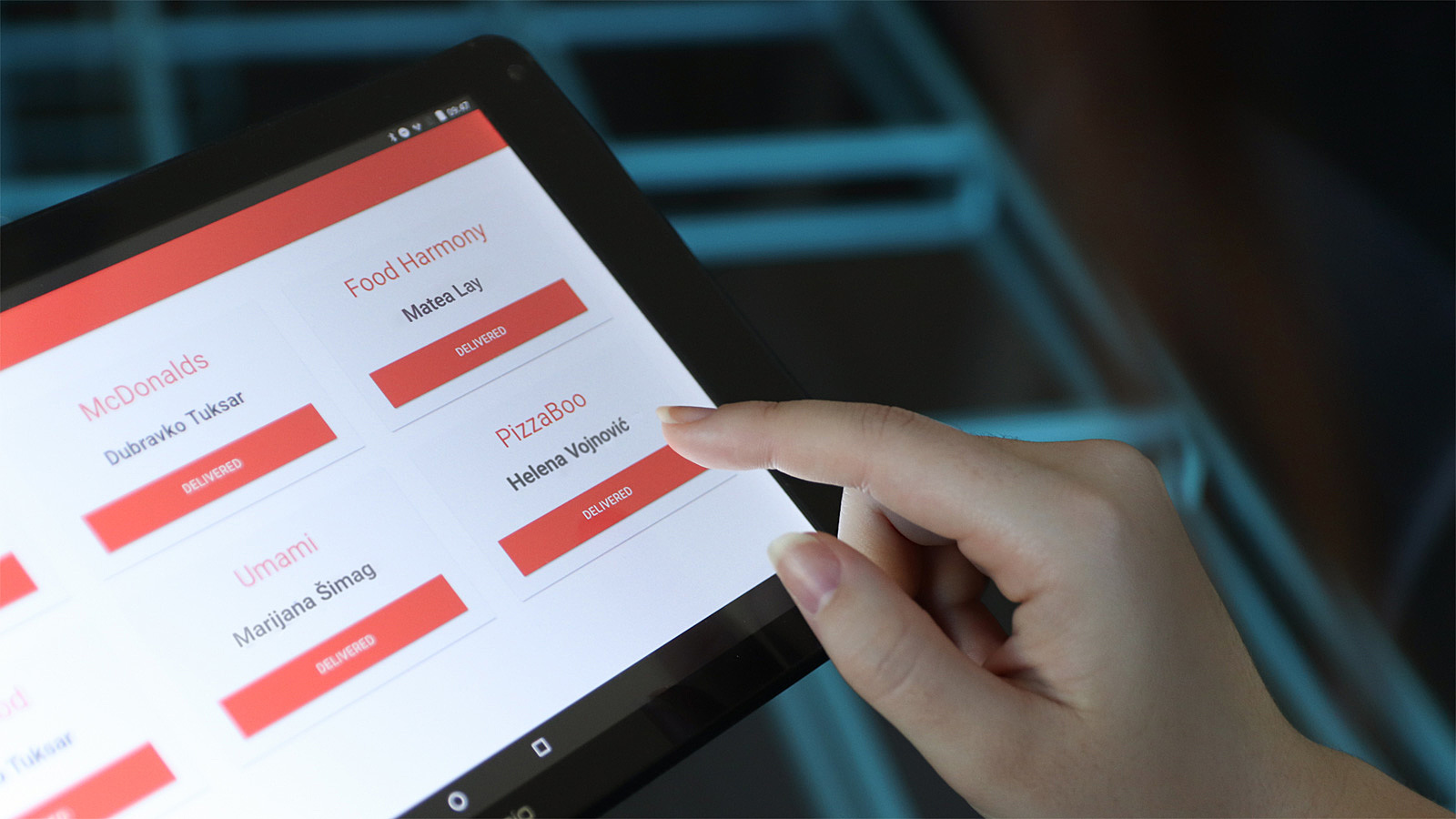 At that moment of glory, the anticipated notification of the food's arrival will show up on Slack for the person who submitted the order, as well as anyone tagged in the order.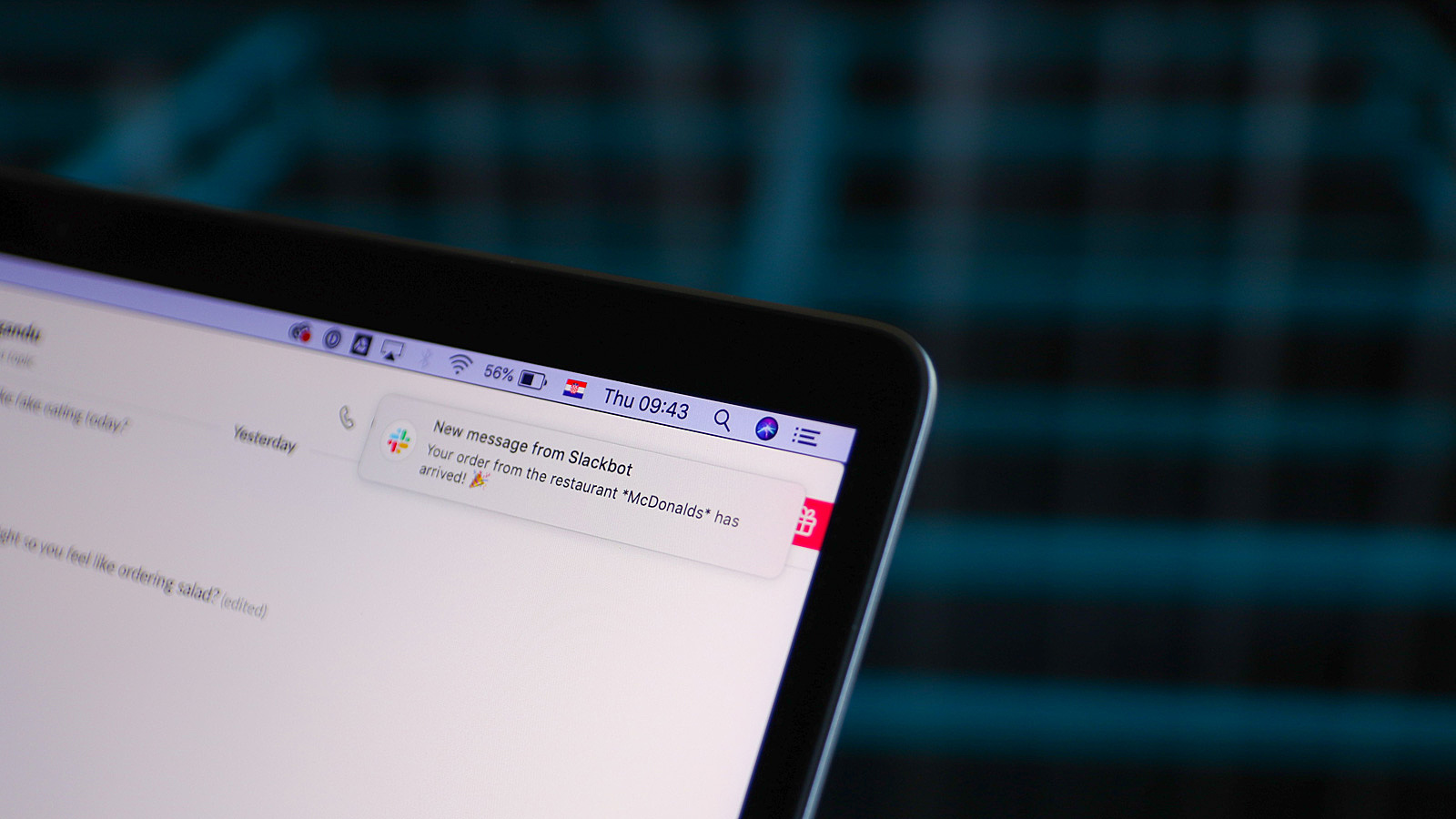 No more getting distracted from work or having to rush out of a meeting to collect an order. For the Office Manager, no more wasting time being a real-life notification system. For the most part, at least.
For delivery people, InFINO reduces their delivery time and helps them get back on their delivery route sooner. More than one delivery person said that they had never seen anything like it, and a couple said they wish other companies implemented the same system. If you're interested in that, scroll to the bottom!
After being in use for almost two years, InFINO has sent more than 10,000 delivery notifications! According to the dashboard, most people order alone, a trend closely followed by two people ordering together. The time when most people get hungry is around 10 and 11 am, which is when most orders are submitted.
Not only has InFINO significantly reduced the time spent on handling food delivery but has also proved that you don't always have to be a programmer or a designer to think of an idea for an app and make it happen. Sometimes all you need is a creative approach to solving a real-life problem, and a developer friend.
If only they can think of a way to solve our second biggest problem next – the what are we having for lunch. Maybe in InFINO 2.0?
PS. The app is currently used internally but we know there are other hungry developers out there, impatiently waiting for their food to arrive like we used to. If you are one of them, tell us your struggles and let us help you!