A few days ago, the winners of the Samsung Global Developer Challenge have been announced, and we're proud to say that we have won the first place in the category "Easy Life" and a grand prize of $100.000.
A few months ago we wrote about entering the finale of the Samsung Global Developer Challenge with our mobile app badaSports. badaSports is an application for tracking sports activities, sharing them on social networks and lots of others great features such as live sharing.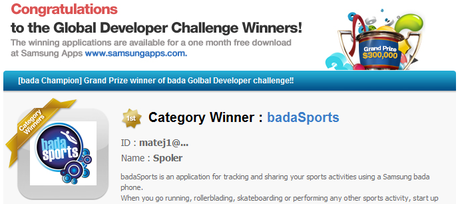 You can read more about badaSports at bada-sports.com which is also a web service that supports the mobile app.
The money won on this challenge will be spent wisely. We consider this to as form of venture capital with the added bonus that we didn't have to give up any equity. We are looking forward to the future development of badaSports as well our other projects.