A few months ago, a couple of us wanted to start a group for learning about Java focused on students. So we founded the first Student Java User Group in Croatia.
I know, you're probably asking yourself "What's a Java User Group?" Well, to make a long (and potentially boring story) short – we're a bunch of geeks who listen to other geeks talk about geek stuff. And that's it! No alcohol, no drugs, no strippers.
How and why was this group founded
In the middle of March 2013, Milan Draganić, Head of Programming and Mobile Computing Education at NetAkademija asked me: "We are thinking about starting a Java User Group here at TVZ, what do you think about running it?"
It sounded interesting, so I said I'd give it a try. A month later, we managed to organize a meeting and get 50 geeks in one room. At that moment, we knew that we were on to something.
Current and former students at TVZ know that, apart from attending classes, the only fun stuff you can do around the college is to go to the local bar and drink Žuja (a common Croatian word that replaces the word alcohol).
If you want to learn something more, you have to go somewhere else, because there is not a lot of cool stuff at TVZ. We think we're brave enough to try and change that with this group, which is – in our opinion – cool and open to everyone.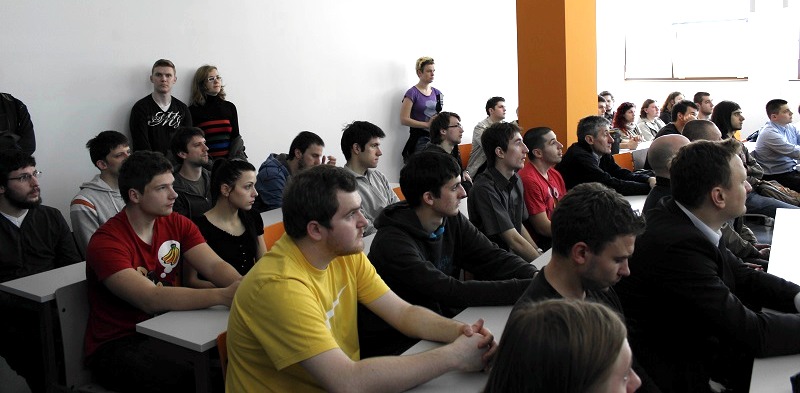 What kind of meetings do we organize
Student Java group is not a cult that worships Java in any way. Hell, even we know that, unlike Megan Fox, Java is not perfect. That is why we don't talk only about Java. We also talk about support tools like GitHub or Jenkins. Also, if anyone wants to convince us that their preferred programming language is better, they are welcome to come. We will definitely listen to them.
People often get confused and think that this group is only for students from TVZ and Java fans, but that is far from the truth. Anyone who is interested in IT and wants to hang out with smart and educated people is invited.
If you are wondering who is behind this group, here we are, in no particular order:
Milan Jovanović – He deals with our technical stuff, webpage, facebook page etc.
Petar Jandrlić – Student representative at TVZ. He helps us communicate with the "big shots" at our parent college
Milan Draganić – He is our mentor, and he keeps us on track
Ivan Kocijan – I am just another pretty face
Our next meeting will be held on September 24th, 2013 at 6 p.m. and here's the lineup:
Milan Draganić – a Java programmer with Oracle Certified Master certificate and a lot of experience with Java. Milan will continue to talk about the new features in Java 8. Last time, he talked about Lambdas and this time he'll talk about implementing filter patterns on Collections in Java.
Aleksander Radovan – Aleksander is a professor at TVZ and the University of Applied Sciences Velika Gorica with a lot of practical experience in programming. He'll talk about continuous integration with Jenkins.
Also, for the first time, we'll have a live stream which will be available on the group's official website.
If you are interested in this group, you can find us all over the Internet. We have recently started working on our official website .
See you at our next meeting!