The tremendous breakthrough of software in recent years is creating problems for telecom operators.
With the advent of Internet companies such as Skype, Viber, Facebook or Gmail, the need for mobile operators has been reduced to providing the infrastructure for access to services which aren't in their offer and for which they have no direct profit.
Landline telephony over the last few years has become only an infrastructure for Internet access, and a similar thing is also starting to happen in the area of ​​mobile telephony.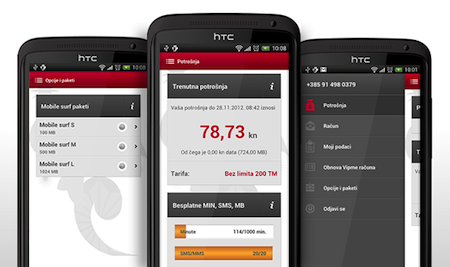 The quality of basic services (voice, SMS, data) has been raised to a high enough level for all operators so that a noticeable difference no longer exists, in contrast to the situation we had just a few years ago. Gone are the days when Tele2 users had to go out of the building to catch a signal and do a call or receive SMS messages.
In addition to that, users are now allowed to transfer their phone number between network operators without changing it, which further helped to increase the mobility of users between mobile operators.
Currently the most important factor in choosing a network for users is the price because the quality of service is more or less the same for everybody.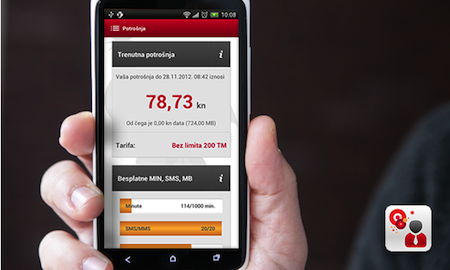 Following that path, Vipnet has last week in cooperation with Infinum released the Moj Vip application which enables easier and faster access to information about your expenses and the services you use. To view information about your expenses, there is no need to create an account, it's enough to install the application and run it.
If the user is using mobile internet, the application will automatically identify him and show the information for him. This makes it a lot easier to access your data.
Interesting features of the app include:
overview of expenses
overview of free minutes/SMS/MB
roaming packet activation
mobile surf packet activation
overview of personal data
Every user that buys a new Android phone with Vipnet will get the application preinstalled on the device.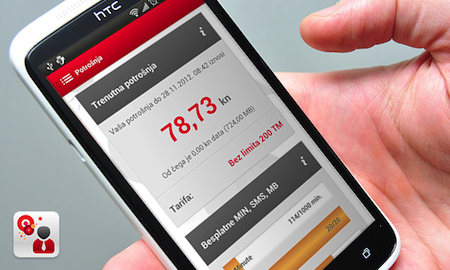 Vipnet is currently the only telecom operator in Croatia, which has released an official app of this type, and the plan is to actively pursue the development of new functionality. This is an excellent example of monitoring the needs of the customers and adapting to new times and conditions.
No one can claim that Vipnet will billions from this application, but it is certain that the users will perceive this as a positive step towards a more transparent insight into their expenses.
Some time ago the portal moj.vip.hr was something innovative and new, but today in the smartphone era we should definitely think about approaching customers in this way. Companies that have room for such useful applications should not ask whether or not to offer them – but when.