After providing valuable insight in the expert commentary section of our book "Transforming the Purchasing Experience", we invited Aleksandar for a follow-up chat to elaborate on the topic of digital transformation in retail.
Hi, Aleksandar! So good to catch up with you again. We left it off at the commentary you wrote for our book.
I was happy to participate. The initial feedback has been great, many people have commented on the design and how in-depth the content is.
You've been in marketing for more than 10 years now. In your opinion, what has been the most significant change in the buying cycle in the previous decade?
In the last decade, an explosive e-commerce revolution and smartphone proliferation provided a fertile ground for the new retail landscape. We witnessed a massive shift of decision power to the connected customer. As a customer today, you have an enormous pool of information and choices when you evaluate products, supported by real reviews. In fact, the shopper may appear more knowledgeable than the sales rep about certain product features.
"Brick and mortar is dead". Discuss.
Although online sales doubled in the last 5 years, brick and mortar still own the retail industry when we look at overall sales. Where e-commerce technology advancements and Internet adoption brought a gigantic change is the buyer journey of the modern customer. Some of our furniture clients like Interior Define are digital-native DTC players that only opened their showrooms years after launching the business.
What is the buyer journey of the modern customer like?
Buyers don't follow a linear path to purchase anymore. They jump in-between stages, devices, and media, with constantly growing expectations and hungry for richer shopping experiences. Today's customer prefers experiences over products so much that to some extent the retail experience itself is the product.
In 2020, as a retailer, if you can't deliver convenience and delivery speed, you may as well shut down the store now.
You don't think physical stores stand a chance without implementing technology?
Digital Darwinism pushes the laggards towards the edge as technology and customer expectations evolve faster than some businesses can normally adapt. Right now we are at the beginning of the end of E-commerce. In the next decade, purchasing all product categories beyond essentials online will be deemed an everyday shopping habit.
To what extent do you think the global pandemic urged retailers to start thinking about digital transformation?
The Covid-19 pandemic certainly accelerated the digital transformation of many businesses. But what we also observe is that it also encouraged customers to buy more online more frequently. E-com sales soared even for a more considered purchase like home furnishings. In the future, customer's demand for more personalized products and experiences will only continue to grow.
What kind of experiences do consumers crave?
Buyers would expect that the retailer can recognize them and personalize the experience accordingly. Machine learning and AI will play a significant role in both movements, hyper-targeting consumers, and delivering hyper-relevant experiences, at scale.
From a retailer's perspective, the ultimate objective is serving the right information at the exact moment customer needs are generated.
At which stage of the buying cycle do you think technology creates most value?
The buying process today is way more iterative as opposed to the straight-line buying journey a retailer was used to 15 or 20 years ago: When you wanted to buy a TV, you walked into a store, looked at 10 models, and got one.
The lines between online and offline are blurred now, and having an online presence is enormously important and a key component in the consideration stage of the buying cycle – both for e-commerce and physical retail!
Do you expect m-commerce to grow bigger in the future?
Thanks to the power that mobile unblocked, customers discover new products, compare prices, create shopping lists and review products (sometimes in the store). Mobile sales are seeing exponential growth YoY and the Coronavirus pandemic brought up tectonic shifts in shopping for almost every product category online, so yes.
From your experience, are retailers aware of the value that implementing software and technology can bring to the table?
Most businesses understand that technology is becoming increasingly important, however, their awareness level depends on where do they really sit on the maturity scale. Some age-old rules in marketing will always apply because the basic human needs won't change: security, entertainment, sense of belonging, recognition, status. The thing is that this relationship now lives across a variety of buying channels.
It's almost impossible to serve, delight and then retain loyal customers without the use of technology and software.
The question then becomes: How much can a retailer satisfy consumers' cravings for better experiences and their appetite for more immersive experiences? That's why technologies like 3D (360 product spins and Augmented Reality) are considered table stakes and the sooner this is recognized, fewer costs are incurred in lost attention and transactions.
As a rule of thumb, retailers need to work backward: design the customer-centered experiences then make informed choices about their technology stack and integrations.
One of Cylindo's innovative products is the 360 product viewer. Can you share any success stories by clients who have been using it?
We've seen clients boosting web store conversion rates by 27% on average and increasing visitor engagement by 3 times as a result of using the 360 product configurator. A top 30 furniture retailer in the USA increased the sales of their sectionals by 30% after introducing the Cylindo powered 3D product configuration in their showrooms as part of their "Design centers."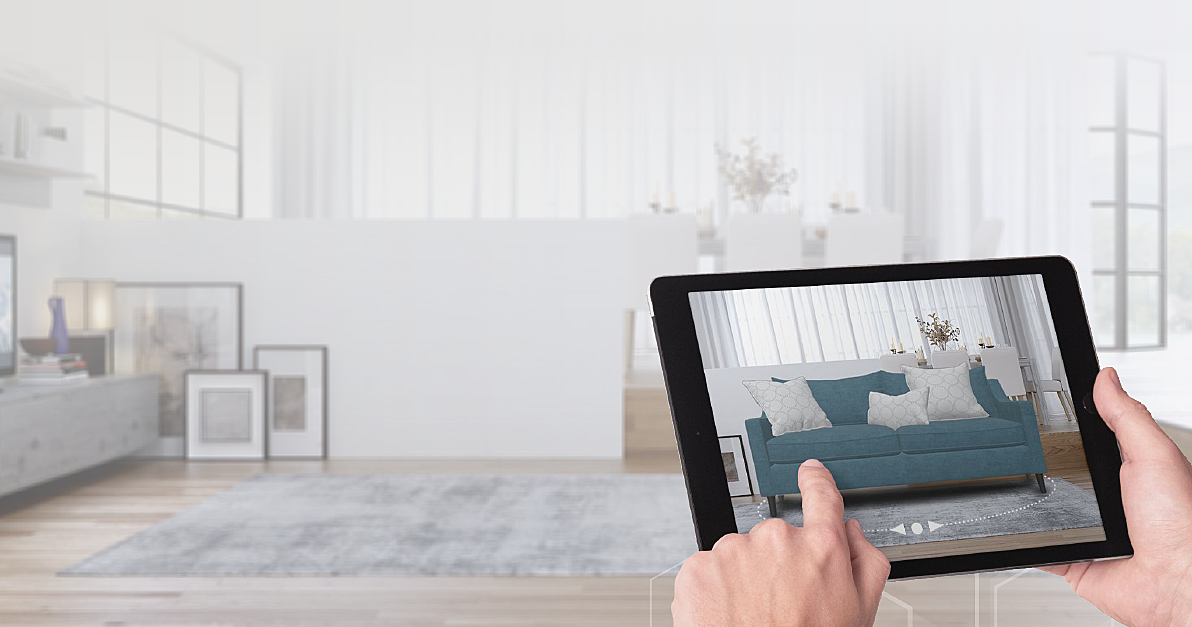 How do Cylindo's products help business track and attribute purchases across all touchpoints and channels?
When it comes down to the last touch conversion, our recent integration with Google Analytics enables clients to easily monitor real-time event data (spins, zoom clicks, clicks on configuration options) and revenue data, actual dollar amount and conversion percentage attributed to a product supported by 360 Product Viewer and web-AR.
As experiences today are increasingly digitally-driven tech-savvy retailers would want to solve more pieces from the buyer journey puzzle, beyond the final purchase: discovery stage and engagement touchpoints. This would require an investment in Experience Cloud Software and intent data, which is where most retailers are slower to adapt vs. their B2B peers.
Can product visualizations ever match the live experience or is a physical extension of an online store a must?
I don't want to underestimate the science and tech development, but in the foreseeable future virtual try-on could hardly replace the sensory experience of touching and investigating a product.
Although a Retail Apocalypse has proved to be a myth to most experts, physical stores are drastically changing, becoming smaller and more experiential. Increased photo-realism quality online implies that we can expect rapid adoption of visualization technologies.
Driven by customer evolving needs for more immersive experiences, 3D technology is ready for widespread adoption. For instance, among the top retailers, 360/3D product views are now considered a minimum requirement online.
How far ahead are we from digital becoming the norm, not an added value?
Some technologies like Web-native Augmented Reality are moving from the experiential phase and are slowly becoming mainstream. This technology can ease decision-making by reducing friction and empowering customers to bring products in real life with a try-before-you-buy experience.
The Latest Apple iOS updates allow for instant experiences and product try-ons.
According to a Gartner report, 100 million consumers will shop using AR online and in-store in 2020, so I think we can soon expect AR to become an inevitable part of the buyers' path-to-purchase.